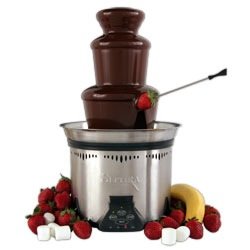 Chocolate Fountain with 2 lbs of Chocolate
Chocolate Fountain
19" Fondue / Chocolate Fountain with 2 lbs. of MILK chocolate included. If you prefer DARK Chocolate instead, please make sure to let us know.
Perfect addition for your special event!!!
Temperature settings to deliver a beautiful curtain of warm cascading chocolate.
It can also be used for other fondue favorites such as caramel, cheese, BBQ sauce, and more.
For best results, please use Sephra brand products only.
Additional Premium Chocolate purchase available (Dark or Milk)
you will have the option to add more chocolate when you click ADD TO CART this item.
Thank you for your online visit!