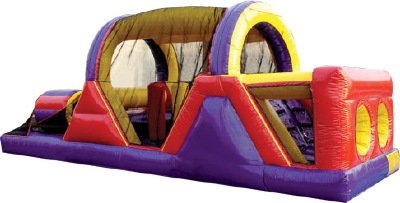 30' Obstacle Challenge
Actual Size: Long 30 Wide 12 High 11 Ft.




30 Ft. obstacle challenge
30 feet of challenge obstacle entertainment in one unit
Crawling through tunnels, maneuvering around horizontal and vertical pop-ups,
with stamina-building climbing and descending along the way,
while building confidence.
Bright, primary-colored purple, yellow and red theme
and its arching design will attract attendees and keep them entertained.
Good for Indoor or outdoor fun.
The challenge obstacle then leads to an exciting front-exiting climb and slide,
all to guarantee hours of enjoyable physical activity.
Thank you for your online visit!